Coins
Modul "Coins" serves for rewiev valid circulation coins. Main window of Coins looks as following: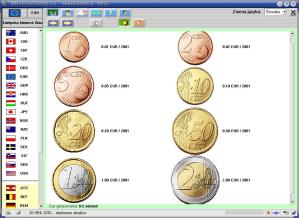 It is possible to choose Menu from vertical bar in the left part of the window. After clicking the left mouse button, a window with obverses and emissions of currency is opened, which you have chosen.
When you click the left mouse button above the obverse coin picture or you click the text next to it, a new window with obverse and reverse of this coin is opened.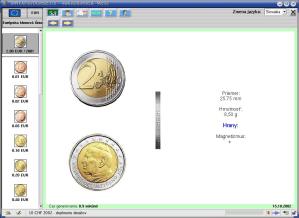 In left vertical bar there are miniatures of coin obverses, which have the same nominal value as the coin displayed in main part. Under the line there are representatives of all coin obverses of the given currency. Depends on which picture you click, that coin will be displayed. At the same time one picture with grey background is displayed. It is the picture of recently displaying coin.
Except of navigation buttons in upper horizontal stripe there are colour taws in upper row. We call them traffic lights.




These serve for switching among individual modules inside one currency and one nominal value. In case that valid banknote exists to exchangeable, grey traffic light is displayed here. If counterfeit exists too, red traffic light is displayed.
In case that you have displayed EURO coins, after clicking the coin reverse it is possible to open another window, which contains reverses for all states of European Currency Union.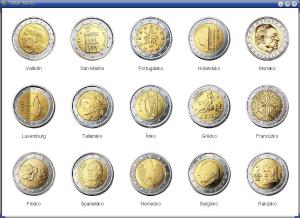 BAN-KA®
Internet version
For help click here.