Mediums of payment issued by National Banks - Commemorative coins
Module "Commemorative coins" is instrumental to comprendium of commemorative cions. Basic window of commemorative coins is displayed as follows: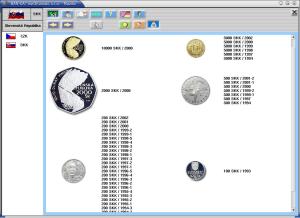 Menu is possible to choose from vertical bar in left part of window. After click on left button of mouse above picture is will opened window with obverse and reverse the currency, which you will choose.
If you click on left button of mouse above picture of obverse commemorative coin or on text next, it will opened new window with obverse and reverse this commemorative cion.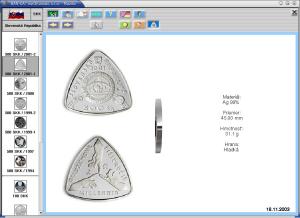 In left vertical column are occuring miniatures of obverses commemorative coins with equal nominal value like commemorative coin displayed in main part. Under line are representants all obverses commemorative coins of particular currency, now. The coins are displayed according to your click. Hereby is displayed one image in grey background. It is image just displayed commemorative cion.

BAN-KA®
Internet version
For help click here.